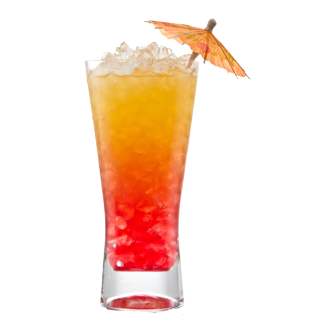 Notes
Glass: Highball glass
Ice: Crushed ice
Garnish: Cocktail umbrella.

Ingredients
• 2 cl white rum
• 2 cl Malibu
• 2cl Grenadine
• Rauch Coco-Pineapple
Instructions
Wet the rim of the glass with grenadine.
Afterwards dip the glass in coconut-flakes.
Put rum, malibu, coco-pineapple juice and ice cubes in a mixer and shake all ingredients very well.
Fill the mixture in the glass and slowly add the grenadine to the middle of the glass (sunrise-effect: bottom red and top yellow)
© 2021 Copyright SIE - Schembri Import & Export Ltd.